I took to the internet to find some guidance as to what typefaces are typically used to produce a gravestone.
Its important to choose the right typeface. Whichever style i choose will have a big impact on the aesthetics of the gravestone, and how people might remember me.
Different types of Typefaces 
Roman
Roman is a serif mimicking the style of ancient Rome. This style is the most common and classic serif used in todays times. Roman also refers to any upright typefaces, (as opposed to italic, slanted, or script)
Classic examples: Baskerville, Caslon, Garmond, Bembo & Times New Roman
You can get a feel for how Garmond looks as a typeface when carved in stone in the image below. The serifs and and thin strokes make it easy for the reader to read in along a line, and also gives a sharp effect when engraved.
Script
Script is a contemporary typeface  that has become more popular in the modern era. Based on a varied an fluid stroke originating from the handwritten word. They can be categorised into more formal types to cursive writing, and more casual scripts. The image below shows a quote engraved in a more contemporary, fluid script typeface.
Old English
Otherwise referred to as Gothic, Fraktur, or Blackletter, was used in the Guthenburg Bible, one of the first books ever printed in Europe. The style is easily distinguished by its dramatic thick and thin strokes, and embellishments to serifs. They evolved in Western Europe from the mid 12th century. Four major familes can be identified from blackletter typefaces can be identified: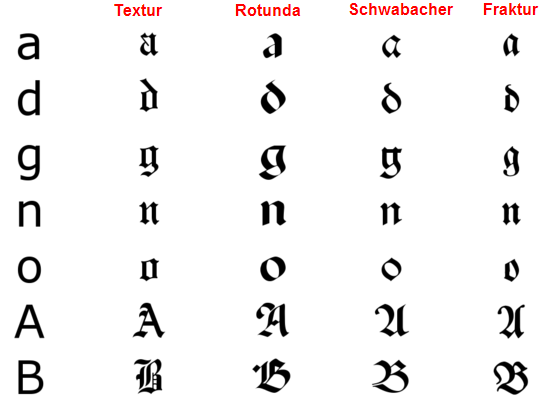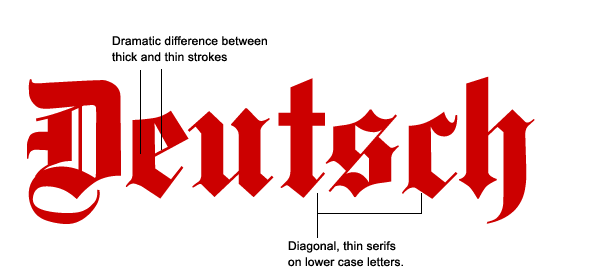 This may be added to a graves stone for artistic effect, and to add contrast against the other typefaces. Also its a very (German) but British and European looking typefaces, and wouldn't be out of place on a gravestone in an English church.
Serif or Sans Serif?
Its believed that serif typefaces are popular for body text because the added serifs make it easy to read along a line. They are not however common choices for hand writing styles except for  capital letters. Serif typefaces originated from inscriptional lettering, and the earliest examples of this is in carvings from Roman antiquity. The historical usage for serif typefaces is extensive, however sans serif fonts gives the gravestone a more contemporary feel.
Sans serif typefaces are a popular choice for headings because their larger appearance doesn't effect the readability in anyway. The sans serif genre has grown in popularity since it was officially recognised as a typographic term in the 1830s.
The Experts Say…
John Champman from Studio Jubilee, an independent print and website design studio, knows the importance of choosing the right typeface fro the right scene. He says:
"An obvious choice of typeface for engraving is Gill Sans, designed in 1926 by controversial Eric Gill. It has become, in many ways, quintessentially British; helped in part by considerable use from the BBC and Penguin Books. In addition to being a type designer and fine artist, Gill was a sculptor and stone cutter, and this is reflected in the sculptural qualities of the humanist letterforms. Gill Sans feels very natural cut from stone, almost peaceful in tone, which is perhaps why it's used extensively by the Church of England. 
A less obvious choice is perhaps Haptik, a Swiss typeface by Grilli Type designed in 2010. Stylistically, Haptik is much more dynamic and contemporary than Gill Sans. Each letterform is optimised to be read blindfolded and by touching them. The design being not primarily focused on optic appearance gives the type a unique appearance. Shapes and lines are emphasised and exaggerated, as if you're tracing the letters with your finger. Engraving type from stone is a tactile experience, and so is looking at the finished piece — encouraging you look closer and touch the words yourself."
The information about Gill Sans is particularly interesting. Although I've heard of Gill Sans as a typeface, and knowing he featured in the history of typography, I didn't know the connotations and importance of his typographic work. He's associated with the phrase "quintessentially British" due to his work with The BBC (British Broadcasting Corporation) and penguin books, another British company. Gill Sans as a typeface feels very natural cut from stone, and this is due to Gill's background in sculpture and stone cutting. This is reflected in his humanist letterforms.
John Chapman also talks about Haptik, which is another interesting typeface. It has been optimized to be read by touching the letterforms. The typefaces shapes and strokes have been exaggerated to increase the readability of not only the generic reader, but one that may be visually impaired. This is important to note as I want my gravestone to be read by everyone easily, but still keeping the aesthetic beauty.
Seaford Memorial Inscriptions Group, a team of experts that are trying to make a record of every single memorial inscription in the East Sussex Town of Seaford, put together a list of key points to make an effective gravestone. After studying hundreds of gravestones, their knowledge is extensive and is a very trusted source.
–       Use plain capital letters in a sans-serif font, such as Arial, Tahoma, Times, Verdana (but not e.g. Comic Sans with additional curves)
–       Avoid lower case and italic
–       The larger the characters, the longer they'll remain legible
–       Vary the size of letters to emphasise names etc.
–       Don't expect painted lettering to remain painted
–       Avoid beginning and ending lines of text close to the edges of the memorial (leave a decent margin)
–       Expect the original fresh colour of the stone to change
Although my gravestone will just be a digital concept design, it's still important to take into consideration the legibility of the type after weathering over time. Interestingly they advice to stay away from lower case and italics, which may be down to the fact that weathering will make these letters difficult to read.